Blau ist ein Lockvogel / Blue is a Decoy
Johanna Hansen / in translation by David Oates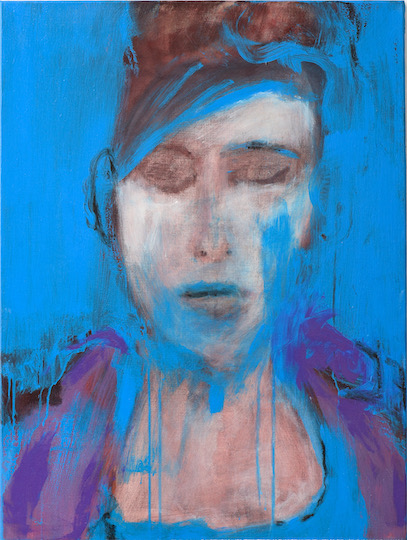 "The Blue Dreamer" by Johanna Hansen
Blau ist ein Lockvogel
Blau macht schlank
bis zum siebten Himmel
dazwischen ist Blau ein Aperitif
hellhörig verrutscht zu Satin
ein Geheimtipp überallhin
Blau sieht täuschend echt aus
eine Flussaue mündet ins Blau
Gefühle
kühl entknotet
ein paar Interna
ein Horizont auf dem Tellerrand
Blau komplettiert ein Adagio zu Schwerelosigkeit
und zieht sich nie aus der Affäre
ein Vokal tauscht mit Blau
Blau ist ein Lockvogel
Ein Federstrich reicht aus
und Blau hält sein Echo hin
mehrstöckig
mühelos tanztauglich
in einer Landschaft auf Zehenspitzen
Blue is a Decoy
Blue thins out, loosens
toward the seventh heaven.
In between, blue is an aperitif,
keen to slip into satin,
a hint sent far and wide.
Blue's looks are deceiving.
A meadow wanders into it,
feelings
unraveled into coolness,
sighs sub rosa,
horizon at the rim.
Blue finishes an adagio with weightlessness
but doesn't get drawn into the affair.
A vowel swaps with blue.
Blue is a decoy, a lure.
The stroke of a quill is all it takes
and blue stalls its echo, holds out
multi-storied,
effortlessly danceable
in a landscape of tiptoes.
Blau ist ein Lockvogel
sound & vision
Johanna Hansen.  Poet, Painter, Editor of the literary magazine WORTSCHAU.  Grew up in Kalkar/Lower Rhine.  First teacher and journalist.  Three-year stay in Davos/Switzerland.  Since 1993 numerous exhibitions and participation in exhibitions. Since 2008 publications, mainly of poetry in combination with own paintings.  In collaboration with musicians and composers, she has created performances, book/CD projects and poetry films.  Poems have been translated into various languages.  Johanna Hansen is online at www.johannahansen.de.