Seitenwechsel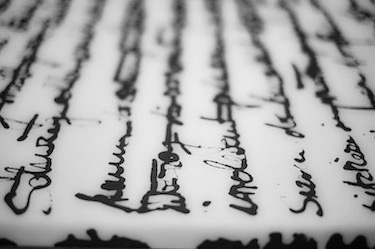 For three years, six writers living in very different cities across the world wrote a parallel diary.  Each portion was published both in WORTSCHAU and Faust Kultur, an online magazine based in Frankfurt, Germany.  WORTSCHAU is a German literary magazine edited by Johanna Hansen und Wolfgang Allinger. The project, dubbed Tagebuchnotizen, was an act of literary and social self-assertion in a time overshadowed by the threat of the unprecedented COVID-19 crisis and, later, by the effects of other global crises—the climate crisis, as well as the Ukraine conflict. 
Tagebuchnotizen, literally, Notes for a Diary, were written on the same day in different places and in different countries.  On a specific, predetermined day, Kathrin Schadt (Barcelona, Spain), Gundega Repše (Riga, Latvia), David Eisermann (Bonn, Germany), James Hopkins (Kathmandu, Nepal), David Oates (Portland/Oregon, USA) and Johanna Hansen (Düsseldorf, Germany) wrote notes about where they spent that day, what they worked on, what they experienced, how they moved through the day and what moved them.  However, everyone was free to write down a fictionalized version of what happened to them or mix autofictional and documentary elements or what they had actually experienced on that particular day.  In this way, the parallel diary created at the same time across three continents, would provide a multi-layered view of our world as we experience it individually.  For all writers making notes, their common focus was provided by the exact same date on which they were set to concentrate.  Public developments, real or even imagined news connected with that day and what it might offer would provide a common background.  The change of perspective offered by their contributions provided the common heading, "Seitenwechsel." 
The first chapter started on a Monday, July 19, 2019, the second chapter on a Tuesday, etc.  The end of the project was marked by a Sunday—July 10, 2022. The topics given to everyone included "happiness," "cold," "wanderlust," "farewell," and finally, "longing."  The simultaneous change of perspective corresponded to the recurring principle of fixed days, which were adapted to the course of the week.  That was what made our work so appealing.  Many have contributed to the implementation of this project.  We are grateful for that. This book would not exist without the work of the translators, Juliane Gräbener-Müller, Lotte Schmitz, Nicole Nau and Dagmar Vossen.  Without Bess Dreyer's editing, we would have been stranded. 
We are proud that all the contributions have now been combined into this book, SEITEN WECHSEL.  For me, every time, the contributions by the other writers created a very special bond that woud serve to overcome distances of all kinds, geographical or personal.  
That way, Tagebuchnotizen became an exercise in the subject of closeness and distance.  Somehow, for a moment only, the changing reflections resulted in a mirror image that I knew, would eventually dissolve again.  But for this one common and consoling moment, it would be there. 
Johanna Hansen, Düsseldorf, November 2022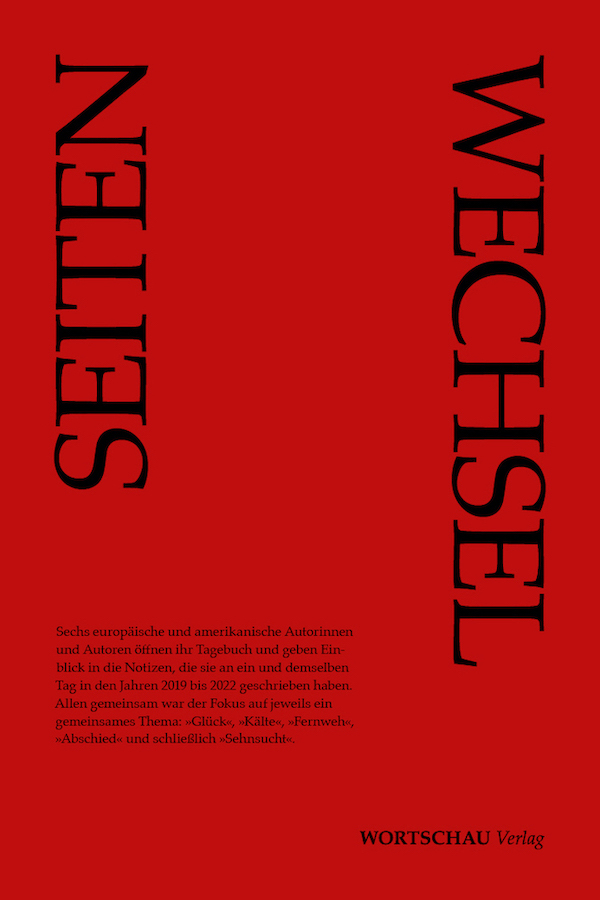 Kathrin Schadt  Barcelona, 1. January 2022 — An annual circle, a fleeting sketch*
4 am Dawn
They say when somebody leaves the others stay behind.  Last year (or has it been two years?) many left and many stayed behind.  Quietly, the annual circle has rounded.  Grief, too, they say takes a year to round, four seasons, transience's marks, to work through.  So when somebody leaves, do you stay behind?  After all, when somebody leaves you move on, too, away from the shared time, the joint location where the farewell took place.  And nothing is anymore like it was there and then.  You, too, move away from that Cross on the Floor: here you were happy maybe, maybe not, and you set out on a new, unknown path.  So when somebody leaves this is farewell and a new beginning, for both. Including a farewell to yourself, the You that you used to be, connected to someone there, and that is now no more. What remains is the common bond.  And what you take with you is the memory of it.  It is not static, it is not an ultimate truth, it is a shape shifter under your steps while you are moving away from your joint location.  A new junction, the old You left behind, a not yet new You starting to take shape.  Find anew, re-invent, shed skin, peel, leave the old shape, until a new skin has grown the raw flesh hurts with every step.  Our world's moaning has become more perceptible in the last few months.  Its attempt to re-invent itself, to find itself again.  While we are saying good-bye to an old world (which maybe never really existed?), mourning it and all our "somebodies."  While you hear: this world will never again be what is used to be. 
8 am Coffee
Meanwhile the "after" a farewell starts like this: the next morning you wake up.  The next morning, in spite of everything, you just wake up again.  Like any other morning.  The bed is still there, the wardrobe, the table, the room.  The eyes to open.  The desire to burst out of a body that has become a stranger, to explode with a loud bang into the silence thereafter.  To dissolve into the nothingness you are left with. A nothingness that is not followed by a loud bang.  A nothingness that leaves you behind the way it feels, devastated.  You are the only one hearing the echo.  While you get up, put on clothes, make coffee, wash cups, dry cups, put cups into the cupboard.  You are a newborn alien in your own world. Yet you start even this day, this circle, anew. You start, anew, a caterpillar maybe, picked off, not in the moonshine, you secretly went into the morning dew, a caterpillar picked off, put into the pants pocket, where it may pupate if it wants to, waits for its time, guarded in fabric, until the old You has finally found the new one. Unfolds its new strengths that develop with every farewell. Because the You expands after each farewell.  You just don't know it yet. 
12.00 No more walks
One week later perhaps you want to (?) or will for the first time set foot outside the door again.  Will comprehend that life has become an obstacle race.  While you are having to console people over your own dismay.  Sympathy an iceberg you did not see coming, you cannot escape.  That rips holes out of you the size of houses.  In a shopping street, on a Saturday, 2.12 pm, next to the vegetable vendor and under chestnut trees your farewell has suddenly arrived.  Somebody is finally blown away, on empty words, wasted on it.  What remains is the slow, tedious collision with the iceberg following these words. And the people you have to console over your dismay.  While the words continue screwing themselves into you, all is said.  You cover the rest in silence.  Get up from the bench under the chestnut trees. Fix your jacket, your face and take yourself home with you in your mouth, sentence by sentence. 
2 pm Lunch
Only a month may have passed and already your tired feet are supposed to dance again.  Where are all the other feet dancing to you ask yourself. While you now perceive the growth of the hours, what is growing is your very own time.  Through which your body is hovering in a shimmering bubble.  It does everything on its own, this body, it does not wait with you, simply hurries away from this moment.  Just like the others who you cannot follow any more and who are afraid of damaging your face by looking.  And you place a candle on the soil excavated and refilled, are grateful for the silence of the light.  Touch this soil, dig your hands into it, hoping to find somebody again there. 
4 pm Tea
Six months after, you start collecting sentences, plucking them off mouths.  That explode everywhere like petals in the spring and open up what seems to be ripe.  You pluck off sentences, collect them in your basket, Forget-me-nots, from which you make bouquets at home which you hang upside down from the ceiling to dry and which in the evenings you count from below like stars.  "Life goes on."  "Be grateful to have survived."  "Life goes on."  "But that was long ago."  "It was God's will."  "Life goes on." 
6 pm Dusk
Not having to think of it would be great.  If there was still room for escape.  Yet after eight months there is only a sunken shell, inside of which you vegetate as a stranger and start leaking.  A stranger you continue to stuff food into, the body so needy, you chew, you swallow, you chew.  On all that you lack to remember.  And you stand in the ring, clothes torn from your body: the clothes, skin, muscles, tendons, bones. All lying in shreds all around you, you do not bother picking them up anymore.  You have become homeless in your own body. Everything inside is being restructured.  While you present the former Me to the others, for the sake of your own orientation.  In the morning, when you pull over the old clothes, gestures and words, all has become too tight, constricting your chest like a rotting corset. Into which you force the new one to be able to be somebody again the others know.  The only one of whom you know how she walks. Nobody wants to see the dried up remains of the dead flesh that tries a moonwalk to the joy of all. 
11.30 pm At night
When the annual circle rounds for the first time, you will wear the date like a shimmering sign on your forehead.  When the mailman knocks, traffic continues, the telephone rings.  Only the fear will remain that the others might find out how you really feel.  And in your heart maybe a place where nothing flourishes anymore.  Meanwhile what you had to bid farewell to becomes the end and the beginning. Becomes what was not there before.  Above which in the summers to come a wild strawberry will bend, over the rim of this grave.  Bowing the head, someone will, be the red meat, in there the yellow dots each single dot will be the bumblebee and its feelers greeting on the strawberry nodding back will be the thick-lipped snug and its traces on leafs will be the little mouse bi-color a stripe of fur on the withers shows the direction here someone will be the smell of humid life and the wasp sucking up the drop from the leaf leaving a smaller one in exchange will someone there everything everywhere will more and more will less and less be tangible.  Where you said good-bye to somebody, a fertile field has remained.  Somewhere in between maybe a place where nothing flourishes anymore.  You would have to look for it. 
*Parts of this text have appeared in the novel Lilium Rubellum (published by Horlemann Verlag). 
Gundega Repše  Riga, January 1. 2022
5 am
I do not know how January 1, 2022 has begun.  After yesterday in the afternoon when I received the notice of my brother's death, I stopped paying attention to time.  Initially I naturally wanted to run away, hide in rituals: I lit candles, said a few prayers, let my view wander in the darkening sky, but reality defeated me.  It was all over.  I was staggering in my illusory faith in a parallel reality, a world of spirit, until hysterical rage overcame me. 
I went into the kitchen to prepare the schnitzels for the New Year's Eve dinner with a meat tenderizer.  Everything else was done already. I was hammering on the schnitzels — you are strong, always strong, Latvian women have it in their genes, suffer, tolerate, endure, no crying, strong as Vermouth tea, unflinching like the night.  Pull yourself together, hold on, pull yourself together again, hold on, again and again, until all relatives have died and you see her in the mirror: the woman strong enough to pity, dressed up in tortoise skin, an empty container full of experience. 
Jānis liked my food so much that he used to tease me by saying I could forget about literature and open up a pub with a cake bar.  I did not really find his jokes innocent. 
My mother gave birth to Jānis during banishment to Siberia.  An agonizing and dangerous birth under primitive, inhumane circumstances.  The women of the village and the children loved the blond, blue-eyed boy.  When seven years later mother and son returned to Latvia, my brother hardly spoke any Latvian.  He became an artist. 
We had an exciting and cordial time of fraternal love.  He was twelve years older than me and we had different fathers but that hardly mattered.  My mother had divorced her second husband, Jānis' father, while still in Siberia and my father died young.  Jānis was my dear big brother.  The situation changed when he got married but that was normal, it is what everybody experiences, it did not hurt.  When our last common relatives died, Jānis had to come and call in secret, his two sons were kept away from me.  The true reasons will remain in the safes of eternity, but the forbidden love offered a glance at the true colors of human nature. 
After so many years of unjust and dismissive silence, years of secrecy and forbidden feelings, I decided not to participate in the funeral theater.  Because I am a strong woman.  After this had become clear to me, last night at eight I could toast with Prosecco with my husband, we thought of my brother Jānis, like every year I wrote down three wishes for the coming year and burnt them in an incense jar.  I usually do this around midnight, but this time punctuality had no more relevance than a dust particle.  We did not cast lead, because we had not bought any.  I took a double dose of sleeping pills and took refuge in the pillows.  This time not even the dog hid under my arm when the fireworks scared him and the cat, too, preferred dealing with a normal human being. 
12 noon
In the background the sound of the annual New Year's Concert from Vienna can be heard.  Barenboim is not my favorite conductor so I do not look at the TV image with the flower decoration which today reminds me only of a funeral instead of a festive event. 
A new year.  A human invention.  Time does not exist, everybody knows that.  Yet they say there must be some kind of order.  Even big children like counting building blocks, change their setup, use them to build towers and labyrinths.  Literature tries to find a reason for anything.  Psychology, a kind of pandemic, even more. 
Two days ago I delivered my new book at the publisher's house, Talks with the Little One, a small conceptual fist I clench on almost 100 pages after half a year of deleting everything from the manuscript, originally two and a half times that long, that people might have wished for: consistency, intertwined narrative threads, with all lines and balls leading up to one single well-rounded structure in the end that can be devoured with pleasure.  I do not know how the publisher will comment on such moods, but I am sick and tired of the extensive, chatty, colorful little stories literature has been inundated with.  To tell a story!  Mine is short, essential and compact.  That's the way it must be for me.  I know people who in view of the common chatter and gossip that literature sometimes imitates want to withdraw into a quietness in which the commandments of the innocence of the word rule.  The reason why I am thinking about this today is the fact that in my text a brother dies. 
3 pm
It is even more hopeless in the forest.  This time I do not find any comfort here.  Crunching snow, I am in Siberia, my mother gives birth to my brother, I become a dot in a text of the universe. 
7 pm
On the internet I am looking for films about the Holocaust.  When my mother died, this helped.  A cynical paradox.  I come across the French series Un Village Français — Survival under German Occupation.  War, betrayal, collaboration.  That fits. 
I switch off the telephone.  Compassion put into words makes me burst, the flood of tears cannot be held back then, I do not want this.  I am strong.  And I have to be for at least another few months because nobody appreciates grief.  And nobody can deal with people who have collapsed in their sorrow, you wait until it is over.  My husband has gone to the mountains for skiing.  This is good.  Men cannot restrain crying women and I for my part cannot stand helplessness. 
10 pm
Tomorrow I will write.  I know that literature has always reached out for me when it seemed that I would disappear in the darkness, never to be seen again. 
David Eisermann  Bonn, Sunday, January 2, 2022
11.59 am
Outside it is rainy and gray.  We are inside, waiting for an opportunity to leave the house.  Today is Sunday.  We are not expecting any mail. We notice the envelope in the mailbox only when we go down the stairs at dawn. 
It was exactly two years ago, in the afternoon, that my last review was on Deutschlandfunk radio station: "Die Wunder von Little No Horse"(The Last Report on the Miracles at Little No Horse).  A novel by Louise Erdrich (published by Aufbau Verlag, translated by Gesine Schröder), dealing with families belonging to an indigenous people in Minnesota and North Dakota.  I had recently suggested to my editor Jean-Claude to look at the new edition of Monika Maron's "Pawels Briefe" (Pawel's Letters).  "I have been told that I am too unpredictable from a political point of view, that I no longer fit into this time and that because of this I am a risk for the publisher," Monika Maron reports.  Pawel was her maternal grandfather who in 1942 was deported to Poland, which was occupied by the Germans and murdered there.  Jean-Claude hurries to alert me of the fact that Monika Maron is now "burdened."  In the fall just before the Corona crisis I had accompanied her for her lecture at the Düsseldorf Municipal Library and had had a long conversation with her.  Her Berlin accent was like that of my father's siblings. 
3.07 pm
In the drizzling rain we are walking through the Railway Station Quarter.  I look at the building on the corner of Gangolfstraße, six floor high, mainly offices, the lines reflecting the lively swing of the time 70 years ago.  On the ground floor there used to be a cinema with a giant screen slightly bent inwards and 650 seats, in a room seven meters high.  This is where I made my father watch the very first "Star Wars" movie with me.  Because Alec Guinness was in it.  He liked him.  At the latest when Obi-Wan Kenobi declared to Luke Skywalker "Mos Eisley Spaceport — you will never find a more wretched hive of scum and villainy; we must be cautious," my father started enjoying the whole thing.  Mos Eisley cantina with hand puppets representing aliens talking in incomprehensible and grotesque ways and with a band of "Extraterrestrials" playing funny uptempo jazz.  A Muppet dive, recordings assembled quickly to make everything seem bolder than it was.  Until Obi-Wan used his laser sword to defend Luke against two villains. 
4.38 pm
At dawn we take a walk through the Nordstadt Quarter.  The new local authorities have arranged for an explanatory note to be added to every street name sign: it explains that the street is named after a prince from the house of Schaumburg-Lippe, who was born and who died in this city and who for a while was the ruler of a small state in today's Federal State of North Rhine-Westphalia.  A rose in the State's flag commemorates it.  He lived in a villa resembling a castle close to the Rhine until he died.  The purpose of this exercise is to counter rumors claiming that the Adolfstraße is named after him, whose name should not be mentioned.  Colorful lights shine in the windows of the closed stores.  Purple, red and even green.  The wine store at the corner, where we usually buy our wine, is closed.  Someone has fixed a kind of flyer to the wall of a house.  "Alpaca, Alpaca Antifascista!" is what it says.  Llamas are said to be very relaxed and calm animals. Because their calmness transfers to humans, who can book a llama hiking tour in the Eifel hills south of Bonn, these domesticated camels originating from the Andes are kept there.  In addition, the alpaca on the flyer on the wall wears a cap of the kind totally on vogue this winter: a Balaclava!  A cap hiding the face, leaving only the eyes open to be seen.  An e-mail address: this is where you can order it. 
5 pm
Along the Rhine everything is purple after sunset.  Refrigerator temperatures, yet hardly any wind.  Church towers, light poles.  From the banks a view onto the water and the oldest of the three bridges. John F. Kennedy was here once, for three days, before a few months later he was murdered back home.  Behind us there are dozens (Ruth says: hundreds) of neckband parakeets (Psittacula Krameri) in the bare trees along the promenade — parrots with green feathers.  They are extremely noisy.  Due to the deep clouds the hills on the other side are no longer visible.  On the horizon, at the Rhine bend, the office towers, brightly illuminated.  The highest one is the tower of the German Post Corporation, Deutsche Post DHL Aktiengesellschaft. 
We open the envelope lying in our mail box and see the friendly and thoughtful face of our neighbor with the curly captain's beard without a mustache, a chin curtain.  A picture in black and while.  For decades he had worked for the Forestry Office and he looks a bit like a wise normal sized garden gnome.  The forest and wood were his profession.  He had fixed a rainbow flag to his house.  A house full of young men who lived there and paid rent.  In  summer there used to be garden parties with colorful lanterns and he and I would talk about plants and his garden and he would ask me about books and films he had heard me talk about on the radio.  Last summer, on the way back from my book talk about Salman Rushdie he wrote to me: "That was good.  You have the ability to inspire people to dare something — to read a book."  On another occasion he wrote to me: the "Duden" Dictionary has failed, dear David.  I occasionally use the word "beruhlich"* in connection with wishes and quiet times.  Is it my invention because Word marks it red?  A while ago I had photographed and posted the Alpaca flyer and he had given it several likes.  Now in the obituary I find a quote of his: "Go try a walk in the forest sometimes.  It is said to be quiet there when you allow the everyday noise to fly away. . . ."  Ruth and I feel the same way as the neighbors who had put the obituary in our mailbox: we are very sad about his "sudden pandemic death."  In the end he was all alone.  In the hospital he was in complete isolation.  There was nobody who could have held his hand, who could have spoken to him, even though he was not conscious any more.  He might have felt it. 
*An adjective that officially does not exist, based on the noun "Ruhe" (quiet, calmness), might be translated by soothing, calming. 
James Hopkins  1. 1. 2022 — The End of The World
I have been dreaming about this for months.  I'm on top of The World, the stars are bright above my head, the Pacific lies dark beneath the ship, and each of the passengers are balanced on the tip of change. The swimming pool on the upper deck glows electric blue in the night, and smells of chlorine and leisure.  
Three… Two… One!
From a balcony above, the Hungarian violinist plays "Auld Lang Syne" and a wave of waiters, perfectly timed, washes in with trays of Perrier-Jouët.  My phone rings and I exchange kisses with someone, but I can't hear a word they say.  The Indians from New Jersey appear in the crowd with The Film Critic close behind them.  A woman hands me a flute of champagne.  The lights of San Diego sparkle on the shore like an island of precious jewels.  The Film Critic gives me a slightly awkward hug.  "Happy New Year!" I shout, and three crystal glasses clink against mine.  Within an hour I am passed out between the soft cotton sheets in Cabin No. 279. 
The World is the only private residential ship on the planet.  A community of Residents who live on board and continuously circle the globe.  There are 165 apartments aboard The World and they cost from two to fifteen million dollars each.  The destination of the ship is determined by vote, and currently the World is sailing up the coast of Mexico, from Cabo San Lucas to San Diego, before crossing over to the island of Maui.  I've been aboard since Cabo, but for the next two weeks I'll be living inside the world's most exclusive jewel.  
The Film Critic is an annual favorite of The World, and this year I am his Guest — negligible except for my exquisite blue linen suit and my ingratiating smile.  "Yes, I live in Kathmandu.  Yes, I am a writer.  And yes I've met the Dalai Lama too."  The World is not an ordinary place, and aboard there are normally only Residents and Staff.  The Film Critic's job is to screen the afternoon movie, to lecture about film and make people laugh.  Every day there's a new movie at the top of the bill, free popcorn inside of red & white striped boxes, and red cans of Coke, perfectly-chilled.  I'm the first to clap and the last to leave.  It's my job to support the show.  
But now it's 06:00 Hours on New Year's Day.  I awaken slowly from the ocean of champagne to find all the lights still on in the room, and the Film Critic asleep on the top of his bed, still dressed black.  I don't remember him coming back last night.  I roll over and return to the ocean.  
07:00 Hours.  I fall back into the ocean, slip in and out of dream, and now my Mother is aboard the ship.  
08:00 Hours.  I dream that someone sneaking up from behind, then we disappear back into sea. 
At 9:00 Hours I sit up and try the first meditation of the new year.  It's a Perrier-Jouët meditation where my head is wrapped in white linen and outside, the ocean is a blurred silence.  Inside, the film critic snores from time to time. 
At 11:00 Hours a message from the captain resounds throughout the ship: "Good morning, this is your Captain speaking."  The long hallways, the salons, and the library fill with the news: 15 Crew members have tested positive for Covid-19 and another 40 are under observation, but all the Residents are safe.  The movie screenings have all been cancelled.  Very quickly The World has become an unfamiliar place.  
13:00 Hours.  I order eggs Benedict, a French croissant, and a turmeric, carrot & ginger smoothie.  My lunch appears on a silver tray with a fresh yellow rose, courtesy of In-Residence Dining.  
15:00 Hours.  The phone rings and the Film Critic is asked to report to the Security Office.  He returns, dressed in black, and he tells me the news: All of the Guests aboard The World have been "invited to disembark."  Instinctively, I pick up the In-Residence phone and order up a bottle of wine.  A 2017 Barbaresco/Barolo blend, a life raft to save us as the world comes to an end.  "Hey, don't worry," I say, as I pack my blue linen suit.  "It's not your fault.  I've been kicked off of way nicer ships than this!"  "Come on," I add, "Let's get the hell off this tub!"  But my tongue is made of salt. 
It's 4:30pm in San Diego and our bags sound like thunder as they roll down the gangway, landing on asphalt again.  Suddenly the world is a disorienting place — unpredictable, strange, bleak.  Just two ex-Guests pulling rolling bags past homeless men and the CVS, echoing down a dirty street.  The Film Critic checks us into a three-star hotel — a parting gift from The World.  The rooms are adequate and there's a view up Broadway, but the Film Critic has wilted away.  "Hey it's never too late for happy hour!" I say, and pull out the final shining bottle of wine.  We watch the new Beatles documentary up until the end of Part One, then film critic retreats to his room and I retreat to mine.  A few minutes later I'm beneath cotton/poly-blend sheets, while an ungrateful city lumbers off to sleep, with all the TV sets left on. 
Out past the harbor, past Coronado Island and Silver Sand Beach, The World lies anchored just out of reach.  The stars are bright above the passengers' heads, the Pacific lies dark beneath the ship, and each of the passengers is immune again from the dangers of the world.  And now I'm floating off as well.  On my own private ocean that rises and falls and glows with sapphire light.  The possibility of the exquisite, the possibility of elegance, aboard a jeweled ship of unimaginable richness heading for Maui in the night. 
David Oates  1 January 2022 — Allegretto Innocente
I enter the new year in a dream of stones falling, rolling down a mountain towards me.  
But I come to and find myself in Santa Fe, New Mexico: a prosperous town, spread out on a high sagebrush plateau, surrounded by higher mountains.  The history here is of conquistadors and subjugation and endurance.  First the Spanish, then the Mexicans.  Then the Americanos.  
The crisp air and clean shadows of seven thousand feet.  Surprising amounts of money here, coexisting awkwardly with entrenched Indian poverty and pueblos in place for a thousand years.  Their residents do not flinch nor do they oblige by "disappearing," that old trope of the American invaders.  They'll be here when we finally leave. 
And today, surprising amounts of snow.  Four inches of fluff overnight, sidewalks pristine at this early hour and all the fenceposts like cupcakes with piled-up frosting.  Each branch and every twig of the winter-bare trees stands out with a wet black line, like an artist's confident gesture, but crisply white along the top.  The short green needles of pinon pines and junipers catch little tufts of snow and hold them up against the hard blue sky.  And for now, a slanting midwinter brightness upon us all.  
Adobe-style houses line the street, with rounded corners like big hips and thick low garden walls, everything in the earthen ochre or pinky-orange of tradition, now set off handsomely by lines of white on each curving surface.  Little gates in walls right up against the sidewalk. Everything sprinkled with confectioner's sugar. 
And despite my strenuous night of dreaming, my mind still echoes from last night at "The Lensic," Santa Fe's charming big-little auditorium with its curlicue faux-mission plasterwork framing the proscenium: an endowed once-a-year orchestra, with a conductor of energy and precision, Joe Illick, who has this year created a program somewhere between kitsch and inspired.  First the famous Finlandia of Sibelius.  The chorus ("Polyphony: Voices of New Mexico") offers a clean sound, well-coached, professional.  And not overpowering (that "Mormon Tabernacle Choir" error): just thirty-two voices, well-matched to the not-huge auditorium. 
If you're not uplifted by Finlandia, then you should stop going to concerts. 
Then the inspired oddity: a "curated" combination just for this evening, using two solemn movements of Mozart's Requiem as lead-ins climaxing with the celebrated choral fourth movement of Beethoven's Ninth Symphony, the "Ode to Joy."  Reader, all the scale and aspiration of this bigger-than-big piece came through.  The soloists superb.  The chorus soaring. 
Thus was the new year greeted with a confidence — an optimism — that is hard to justify.  But for those few hours, all humanity seemed reachable.  Brotherhood.  Sisterhood.  Creaturely solidarity.  Why not? 
* * *
When I was about twenty, I worked as a back-country guide and climbing instructor in California's High Sierra range, in a shoestring program loosely modeled upon the well-known "Outward Bound." Our leader was a charismatic fellow who seemed oldish (mid-thirties?) who led us toward a granite summit along the Great Western Divide, a studding of 13- and 14-thousand-foot peaks.  We had arrived at the point where a boulder field sloped up into sheer rock faces that were nonetheless fractured agreeably for clambering.  Careful clambering.  It was the sort of "high-angle" climbing that doesn't quite need ropework — but comes with the proviso "But don't fall."  
My last-night's dream came from this day, this slope.  Our leader, ahead by fifty yards, had noticed an unstable boulder, and decided to remove it from play by sending it down an adjacent chute. 
But (as you have half-guessed already) he pushed it in one direction, but after ten feet of gaining speed it bounced in the wrong direction: straight down the slope on which we labored.  "ROCK" was the warning cry, in our leader's horrified voice: ROCK ROCK ROCK ROCK ROCK!!! 
I was first.  I watched the spinning chunk bounding straight towards me.  I was hemmed in, my  motions limited by dropoffs and outcrops. But it was a rocky place, after all.  My vision downshifted to the slow-motion mode.  The boulder flew along at a strange, stately tempo.  I had lots of time, it seemed.  As it approached, I dropped behind a Volkswagen-sized rock.  I heard — and felt — the impact, saw the still-intact missile rebounding overhead and down the mountain.  It missed the other fellows by somewhat more comforting margins. 
Such a dream, such a memory.  Is it a good omen on New Years Day, or a bad one? 
* * *
The other source of last night's rockfall dream: an old friend who reappeared from nowhere.  Unchanged! 
On the last day of the year I had risen early.  In the quiet rented house in Santa Fe, an ordinary winter's day awaited me.  No snow yet.  I bundled up, made strong tea, and sat in my accustomed place to look over some poetry. 
My study that week had been the Swedish poet Tomas Tranströmer. It's been over a decade since his Nobel Prize, and only now am I catching up with his work (in translation). 
And in a section of mid-sixties poems, I discover an artifact of my own now-ancient literary life, a fossil poem.  With not-yet-fossilized feelings still clinging to it, like DNA of ancient mammoths.  With a kind of wonder, I saw the poem titled "Allegro" on the page before me, in which, after a "black day," the poet puts his hands in his "haydnpockets" and discovers on the keyboard a kind of "spirited, green . . . silence."  A calm surrounds him.  
"I raise my haydnflag. The signal is:
'We do not surrender. But want peace.'
The music is a house of glass standing on a slope;
rocks are flying, rocks are rolling.
The rocks roll straight through the house
but every pane of glass is still whole."
Reader, I knew that poem.  I had heard it fifty years before, in a reading given at my graduate school.  And I had been remembering it ever since, thinking . . . Now what was that poem?  Who read that to us?  The pockets.  The demand for peace.  The rocks rolling harmlessly through. 
My brain works like this.  I may not remember someone I met ten minutes ago, and I am prone to be late paying bills.  But language sticks to me the way burrs get caught in your socks.  Tell me a good word and decades later that word will reappear when the sentence I'm working on calls for it.  It astonishes me, really. 
Today, New Years Day, I revisit the poem rediscovered just yesterday.  And I think of the Haydn I've been playing on the piano this past year, with its tempo instruction of utter charm: Allegretto Innocente. 
These are my marching orders for this new year.  Let the boulders roll, as they will, as they must.  But work on transparency.  Calmness.  Joy. 
Let the innocence begin. 
Johanna Hansen  Düsseldorf, January 1, 2022
9 am
I have stripped off the old year in my sleep.  Woke up briefly at midnight, because sporadically fireworks could be heard.  Yet there were no loud parties in the neighborhood.  No firecrackers burnt off in the yard.  No startled birds.  New Year's Eve was almost as unspectacular as back in the 60s in the countryside.  When we would look up to the sky when the church bells welcomed the new year and in white frost nights the border between reality and the world of the dead became permeable.  When I was still afraid of such moments. White linen was never washed on Sundays and Holidays.  Let alone on Christmas or New Year's Day.  Bedsheets on the clothesline meant they would return to the house as shrouds the following year.  We would laugh about this but still behave cautiously.  It was the time of cleaning up and of spooky stories.  In the dark I often thought I could see shadows at the foot of my bed reaching out for me. 
11 am
The letter from Switzerland is still lying on my desk.  A thick envelope with the entire correspondence about my exhibition in Davos more than twenty years ago.  A few days earlier I had received an e-mail announcing the letter.  The exhibition was a disaster.  Never have my paintings and I been misunderstood more fundamentally. The letter seems to me like a message from the hereafter.  It comes much too late in order to qualify as an apology.  Its indiscreet delay makes it ridiculous.  It falls under the category "farewell" is what I decide and tear it without reading.  There are long farewells and short ones. 
In the days preceding New Year's Eve I emptied a small chest of drawers.  I pulled out one drawer after the other and put aside for disposal what I do not need anymore. 
Electric cables, headsets and chargers, two old-fashioned cell phones.  The cremation certificate of our last pug dog and its predecessor's pedigree.  Foreign coins of the pre-Euro era, warranty declarations, films for an analog camera I no longer own.  Ink, the fountain pen, a gift for my first day at school.  A map of Davos. 
3 pm
I will keep the fountain pen after all.  Nothing is better for writing than this worn "Pelikano" pen which I got when I started school.  It has not enabled me to develop a beautiful handwriting but it has fed me with language at any time.  "Schnee" (snow) became my favorite word because we got a break from school as soon as enough snow flakes fell from the sky in order for us to go and fetch our sleighs.  It was a welcome interruption of everyday (school) life.  The unfamiliar brightness, vastness and stillness of the landscape gave me the feeling that I could more easily balance over the abyss that so often separated me from life.  Snow was a synonym for hope. 
Unlike for the letter, I have not yet made up my mind with regard to the Davos map. 
Fiete and I spent three deep snow winters and three short high mountains summers in Davos.  Then we moved to Düsseldorf and went back there every year for two to three weeks to refresh our lungs with the mountain air and dry cold. 
Back then, there was still plenty of snow on the peaks.  And when there was none, snow cannons would be used.  Snow became my permanent theme because I love the non-color white.  In white I can forget and remember (myself).  White is my reset key and every new beginning.  When in 2020 my snow miniatures were published in the form of a book, that was the real separation from Davos.  I closed the manuscript and I knew this was good-bye.  Not, as I had believed for a long time, the stay there at the turn of the millennium.  We spent it in the mountain hotel which at the beginning of the 20th Century was a famous sanatorium.  Stood in front of the Art Nouveau facade and looked down into the valley flooded with light.  Fireworks on the mountain ranges turned the scenery into a sparkling crystal.  It hardly mattered that the animals were chased further and further up to the higher valleys to make slopes and trails available for sports even at night.  I was defenseless against the snow's magic.  Yet not against the ski circus.  I disposed of my equipment and from then on would walk through the forest. 
 . . . this is no room for compromise. 
where clouds sail at the height of tea cups.  the bellboy at the reception has a whale tattoo on the back of his hand.  where on the porch the night crotchets snow cushions in basket chairs and in the bar ice cubes from champagne coolers clink into exotic drinks a topography forms out of winter scenery brochures with sprinkles of abysmal moods. 
lit up by an ice flower pattern on the window panes. 
by contrast the entangled unplugged cords of the former telephone system in the hall.  the end of the stories dating back to when the hotel was a sanatorium.  lasts seamlessly until today.  the barred elevator moves more slowly from floor to floor than a walker on the marble stairs . . . 
in front of the house a man is digging up the snow row by row.  as if it were spring and time.  for loosening the soil in the beds. loudspeakers announce the next ski run. 
every welcome scene is recognizable.  swing doors bend through the key hole. the silhouettes.  the luggage of the voyagers change like the feeding places surrounded by mountain jackdaws.  children gather in front of the entrance door for a snowball fight. 
who is afraid of the black man.  we used to shout.  fixed swan feathers to his hat and believed.  to be able to break any ice with seven-league boots . . .  the hotel led the solitary life of an aging diva with too much make up unable to find the cloakroom's exit. 
due to a respiratory disease i kept coming back to davos for many years. . .  thought.  in this frosty clear air the ropes are cut.  (from "Zugluft der Stille" — Draught of Silence)
6 pm
During a walk in the neighborhood we run into a demonstration of people opposing the measures against Corona.  There are many of them including parents with little children.  They wear light chains, swing flashlights, blow on whistles, hit drums.  "Wir sind hier, wir sind laut, weil man unsere Freiheit klaut" (We are here, we are loud because our freedom is stolen).  Since I belong to a "high-risk group" and am happy about having been fully vaccinated I stand by the roadside, speechless.  Nobody wears a mask.  Aggression is lurking. Banners display weird doomsday slogans.  We feel like we are walking through mine fields and laments resembling those of our childhood.  How many times did discussions end up in irrational assignments of blame for the causes of war.  Conspiracy theories created fears.  Back then and now they crept out from under profound mistrust. 
8 pm
The attempt to work on poems' drafts fails.  Every phrase melts under my fingers. 
11 pm
Stretching out in bed and hearing the soft chirp of the robin through the open door to the yard.  I relax.  The demons of the past and of the present withdraw when I focus on Fiete's calm breaths next to me. For a while I guard his sleep before I fall asleep myself.  Every dream is a journey leaning on white. 
Kathrin Schadt.  Several book publications, translated into several languages.  Publications as a journalist in DIE ZEIT among others.  Host of poetry festivals, including Otro modo de ser.  Founder of the poetry workshop POEDU.  Awards in the fields of literature, film, radio, journalism.  2021 publications: POEDU book (Elif publishing house), Children's book (Bülbül publishing house); she publishes an anthology (Verbrecher publishing house) together with the Fritz-Hüser-Institut, Iuditha Balint, Julia Dathe and Christoph Wenzel.  For her recent novel project she obtained a residency grant of the Franz-Edelmaier-Residenz for Literature and Human Rights 2020/2021. 
Gundega Repše.  Latvian prose writer and art historian from Riga.  She studied art history and theory.  Worked for the Latvian Artists' Association (1985–1992), the literary magazine Liesma, Labrit newspaper and the literary magazine Karogs.  She started publishing prose in 1979, including 10 novels such as Thumbelina (Ikstite, 2000), The Orphanage (Barenu nams, 2008), the trilogy Heavy Metal (Smagais metals, Omnibus edition 2012), Nice People (Jauki laudis, 2014), six short story collections and numerous non-fiction books, biographies, literary diaries.  Conversations with writers and essays. 
Since 2020, David Eisermann has been contributing entries from an autofictional diary to WORTSCHAU, a literary magazine, edited by Johanna Hansen and Wolfgang Allinger.  His texts deal with his former job hosting the morning show on WDR3 arts radio in Germany—presenting a daily mix of classical music and talks about the arts—interspersed with visits by dead loved-ones in broad day-light and a false memory of the night when the Earth stopped turning.  David has been working on "Unheard-of Years," a long-term project involving personal photos and not so false memories of a time when his hometown, Bonn, was the political center of Germany.  More about David Eisermann at www.isbn.de/person/David+Eisermann. 
James C. Hopkins was born in the USA and raised in the Blue Ridge mountains of Virginia.  He earned his college degree in French Language & Literature from Duke University and worked for more than two decades as a Wall Street investment broker before moving to Kathmandu, Nepal to work and study in a Buddhist monastery.  He is the author of 6 books of poetry and his poems have appeared in numerous magazines & journals around the world.  Currently, James lives in Kathmandu where he runs international writing workshops through Himalayan Writers Workshop, and is the director of Quilts for Kids Nepal, a social enterprise that sponsors education for at-risk children and creates jobs for economically-challenged women in Nepal and India. 
David Oates is author of six books of nonfiction.  His memoir The Mountains of Paris: How Awe and Wonder Rewrote My Life won the Eric Hoffer Award and was finalist for the Oregon Book Award.  His essays have appeared in Georgia Review, Creative Nonfiction, Ecotone, and monthly in the online journal 3QuarksDaily.  His poems have recently appeared in Orion, Rattle, and December Magazine.  The Heron Place won the 2015 Poetry Award and publication from Swan Scythe Press (San Francisco).  He lives in Portland, Oregon (USA) and has taught at colleges and universities in the US and France.  His Ph.D. is from Emory University, Atlanta. 
Johanna Hansen.  Poet, Painter, Editor of the literary magazine WORTSCHAU.  Grew up in Kalkar/Lower Rhine.  First teacher and journalist.  Three-year stay in Davos/Switzerland.  Since 1993 numerous exhibitions and participation in exhibitions.  Since 2008 publications, mainly of poetry in combination with own paintings.  In collaboration with musicians and composers, she has created performances, book/CD projects and poetry films.  Poems have been translated into various languages.  Johanna Hansen is online at www.johannahansen.de. 
Dagmar Vossen spent her childhood and youth in Aachen.  She studied English and Spanish at the Institut für Übersetzen und Dolmetschen (Institute for Translating and Interpreting) of the University of Heidelberg.  Since 1991 she has been with a global Insurance Brokers/Risk Consultants firm with a multinational focus.  She has translated the essays of Johanna Hansen, Kathrin Schadt, Gundega Repše and David Eisermann into English.