Seitenwechsel part two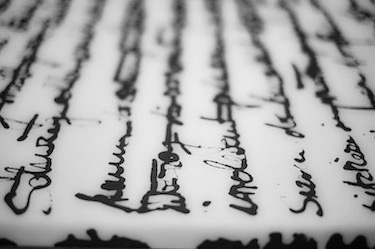 For three years, six writers living in very different cities across the world wrote a parallel diary.  Each portion was published both in WORTSCHAU and Faust Kultur, an online magazine based in Frankfurt, Germany.  WORTSCHAU is a German literary magazine edited by Johanna Hansen und Wolfgang Allinger. The project, dubbed Tagebuchnotizen, was an act of literary and social self-assertion in a time overshadowed by the threat of the unprecedented COVID-19 crisis and, later, by the effects of other global crises—the climate crisis, as well as the Ukraine conflict. 
Tagebuchnotizen, literally, Notes for a Diary, were written on the same day in different places and in different countries.  On a specific, predetermined day, Kathrin Schadt (Barcelona, Spain), Gundega Repše (Riga, Latvia), David Eisermann (Bonn, Germany), James Hopkins (Kathmandu, Nepal), David Oates (Portland/Oregon, USA) and Johanna Hansen (Düsseldorf, Germany) wrote notes about where they spent that day, what they worked on, what they experienced, how they moved through the day and what moved them.  However, everyone was free to write down a fictionalized version of what happened to them or mix autofictional and documentary elements or what they had actually experienced on that particular day.  In this way, the parallel diary created at the same time across three continents, would provide a multi-layered view of our world as we experience it individually.  For all writers making notes, their common focus was provided by the exact same date on which they were set to concentrate.  Public developments, real or even imagined news connected with that day and what it might offer would provide a common background.  The change of perspective offered by their contributions provided the common heading, "Seitenwechsel." 
The first chapter started on a Monday, July 19, 2019, the second chapter on a Tuesday, etc.  The end of the project was marked by a Sunday—July 10, 2022. The topics given to everyone included "happiness," "cold," "wanderlust," "farewell," and finally, "longing."  The simultaneous change of perspective corresponded to the recurring principle of fixed days, which were adapted to the course of the week.  That was what made our work so appealing.  Many have contributed to the implementation of this project.  We are grateful for that. This book would not exist without the work of the translators, Juliane Gräbener-Müller, Lotte Schmitz, Nicole Nau and Dagmar Vossen.  Without Bess Dreyer's editing, we would have been stranded. 
We are proud that all the contributions have now been combined into this book, SEITEN WECHSEL.  For me, every time, the contributions by the other writers created a very special bond that woud serve to overcome distances of all kinds, geographical or personal.  
That way, Tagebuchnotizen became an exercise in the subject of closeness and distance.  Somehow, for a moment only, the changing reflections resulted in a mirror image that I knew, would eventually dissolve again.  But for this one common and consoling moment, it would be there. 
Johanna Hansen, Düsseldorf, November 2022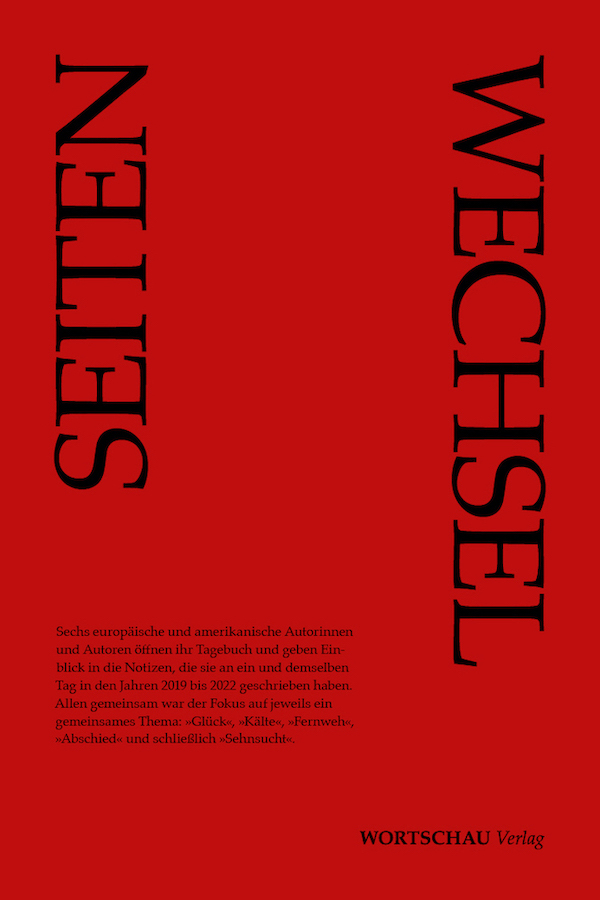 Kathrin Schadt
1.
s
sle
sleep
sleep L sle
sleep O sleep sle
sleep N sleep sleep sle
sleep G sleep sleep sleep sle
sleep I sleep sleep sleep sleep sle
sleep N s sleep sleep sleep sleep sle sle
sleep G sleep sleep sleep sleep sleep sleep sle
sleep sleep sleep sleep sleep sleep sleep sleep sle
sleep sleep sleep sleep sleep sleep sleep sleep sle
sheep sheep sheep sheep sheep sheep sheep
sleep sleep sleep sleep sleep sleep sle
sleep sleep sleep sleep sleep sle
sleep F sleep sleep sle
sleep O sleep sle
sleep R sle
sleep sle
s
2.
Life Life Life Life Life Lif
Life Life Life Life Lif
Life Life Life Lif
Life Life Lif
Life Lif
But
full of
Life ife
Life Life ife
Life Life Life ife
Life Life Life Life ife
Life Life Life Life Love ife
3.
dream dream dream dream dream dream dream
dream dream dream dream dream dream dream
dream dream dream dream dream dream dream
dream dream treem sweet dream dream dream
dream dream dream dream dream dream dream
dream dream dream dream dream dream dream
dream dream dream dream dream dream dream
4.
stillness stillness
stillness stillness stillness stillness
stillness stillness stillness stillness stillness
stillness stillness stillness stillness stillness
stillness stillness stillness stillness stillness
still stillness stillness stillness still
still stillness still
5.
The Essential
Longing for 
Sleep but full of life
Treem sweet
Stillness
Gundega Repše  Riga, July 10, 2022
Sunrise. The dog is still asleep. I sneak out because I hear cranes calling in the yard. Yet apparently vibrations of the ground alert them that the one approaching on tiptoes belongs to the terrible human race. Three cranes spread their wings in front of me and fly away, their smooth, light grey bellies a majestic streamline. The beginning of this day is like a gift. But the sun is coloring the wheat field red, and I remember that in Ukraine, the Russian occupants bomb such fields and burn the fruit to aggravate the hunger in the world. I find myself in an unbelievably rough reality and cranes cannot change this. 
I do not manage to descend from the emotional volcano that erupted when it became clear to me that the Absolute Evil is not something abstract, but the most banal and appalling reality. Every morning hammers it into my head, when I connect with life on earth: the civilized world is an illusion. Man is degenerate in his apathy, his consumerism, his egoism, his greed and has given himself to barbarism, murders and rapes children, wrecks cities, destroys the motivation that gives purpose to culture, art, music. Because war goes on and the whole triumphant idolization of technology is powerless against the Absolute Evil, against the terrorist state of Russia. For decades, the civilized world has pampered this empire of evil, thereby letting itself get corrupted, drowned in pathologically nostalgic ideas of the special Russian soul. I would love to think of something else yet nothing else has any meaning as long as the evil has not been erased. Thus my longing is for a world order in which all weapons are destroyed and all humans and all states are condemned that arrogate to themselves the right to determine the life and being of others. 
My longing is for green rain and a wind that cannot be detained, at the same time washing and weeping. 
From what I hear many authors have stopped writing. No motivation, no purpose. The illusion of the redemptive power of culture has been shattered. I feel the same way and every narrative is hypocritical and bound to fail. For a long time, it has been psychologists and psychotherapists who have been providing comfort, not poets and writers who have been pushed to the edges of entertainment pleasures. And still, when I do not stick to the self-made frame, I see the words flowing — like fountains in the desert — and again it is the hand and not the computer keyboard that strings letters together. This is what I am like at the moment. I stick to my hand and trust in myself, allow the letters, syllables and words to flow — later on, if there is a later, I will review what this was and is. My handwriting in the universe.
I spend the entire afternoon mowing the lawn. I have plenty of it. I have heard that now "natural meadows" are en vogue but when last summer I left an unkempt tussock with St. John's wort, thistles, mugwort, yarrow and meadow grass next to the house I felt like a fool who after a banquet does not clear one corner of the table to leave something to gaze at for future generations.
Nerves are failing and I already identify myself with an unknown Ukrainian soldier chasing the occupants away. Keep going, just keep going! I roar like a lioness on her hind legs. Sweat enters my eyes, biting, I lose my orientation. I do not cry, no, do not think I do; it gets hot when you struggle like this and cannot let your thoughts evaporate. They return to your own eyes.
A midsummer evening. Lime trees are blossoming. Bees are doing their business. So do bumblebees and hornets. There is enough room for all. The longing soaps the body and I jump into the pond. It is as cold as ice. Like the era that has come over Europe. 
David Eisermann  Bonn, Sunday, July 10, 2022
1.08 am
Woke up. Thought about the Taiwanese author who I had taken from the Literaturhaus (House of Literature) to her hotel the night before. Of how she suffered because her German boyfriend (who was the reason why she had moved to Berlin) wanted to keep his meetings with her secret from his wife and his children at any price. His ablutions when afterwards he took what seemed to be endless showers, soaping off. Her broken, disappointed longing.
2.44 am
Woke up. Wrote. Made coffee. Read. Yesterday at the pond: the green sign with white letters. Schönauer Weiher. The water surface. Swimming and bathing at your own risk. This area is for playing and relaxing. Everyone is to behave in such a way that nobody else is disturbed or obstructed. The Municipality of Bad Heilbrunn. "I did not know all of this," I write to her. "I am deeply impressed by what you write. Probably I feel a lot like you. I am definitely curious. But also cautious. The paradox about artistic work is the necessity to maintain your own sensitivity (without which there is no artistic work) and that, as a result, you'll become all the more vulnerable the more you open up." And: "We are less than 80 km away from Innsbruck and just under 60 km away from Munich. Here the Benediktenwand, a mountain ridge, rises into the sky. Otherwise nothing. Five days ago our dear friend picked us up at the convent's small train station. Here I can gain some distance and still feel close to our friends." Wioleta, who looked after mother as a caretaker and who came from far away for the memorial service and the funeral sends me WhatsApp messages for which I am really grateful right now: "You have to be strong. The pain will ease gradually. Your parents are happy together now. For me, they will always stay in my memory. Take good care of yourself." When does the sun rise on a 10th of July in Benediktbeuern? At 5.27 am. I look at the meadow so fiercely green, the trees with the strong trunks, the bright, low sun. I look at the picture: Mother, still looking very much alive, very serious, her hair done beautifully and neatly dressed, at the table of the country inn with my good brother at her side. She wears a blue blouse with white dots and her black locket showing the letter H — for Honigmann, the family of her mother, who had been born in Antwerp. Grandmother Ada Honigmann wore it when at the age of 47 she sank down dead at the table. They said that Ada's daughter Carla cautiously took it from her — at the behest of her father Ernst. On that photograph my mother's and my brother's eyes appear quite bright, not dark as mine. 
12.49 pm 
More than one hour of sleep (I had been up since 2.44 am). It took complete exhaustion for me to painstakingly learn to protect myself. An old friend of mine who I had been professionally connected with for many years, was so badgered by his siblings that on his 61st birthday he had a monstrous heart attack. After a long rehab period, he has been living in a care home for almost four years now. It was all about his inheritance. Now, he is permanently paralyzed on one side.
3.49 pm
Overcast sky. A grey day in July. We visit the familiar café. The two women: green jacket, blue jacket. Our friend with her cousin some twenty years older than her. We sit across from her. All her life she managed the household of a Catholic priest. No marriage, however, kind of in a way. She took very good care of him and made him conform to her ideas of domestic life. He died a long time ago. In the café, they serve fruit cake with several kinds of red fruit — cherries, raspberries, wild strawberries. A little piece of kiwi on top. Brittle chips. On a beer coaster the portrait of the last King of Bavaria. Blue eyes behind Schubert glasses. Grey hair on his head, the grey beard neither cut nor combed particularly accurately. He reminds me a little of the architect who let me my student's apartment in Poppelsdorf. The circle around the portrait of the King says: King Ludwig III, Prince Regent from 1912 to 1913. King of Bavaria from 1913 to 1918.
In the basement there is an exhibition of self-painted pictures. The funniest one shows three women in traditional costumes, "Benediktbeurer Beauties," and can be bought here in the Café Lugauer for 290 euros. Each woman carries a small red flower bouquet, red like the wild berries on the fruit cake. They are wearing dirndls with dark skirts and dirndl aprons, white scarves with fringes put on. Eyes wide open. Slightly insane smile. Updo hair style. Somewhat weird folk art: pride in yourself. "They're Bavarians to their hearts' delight," is how an American friend expressed it. Something the people of North Rhine-Westphalia clearly lack. 
5.36 pm
In the teletext of German television I read that Protestant theologian Margot Kaessmann has criticized the church marriage of Secretary of Finance Christian Lindner and a roe deer kind of person. Somehow, by studying hotel management and business administration at a hotel management school in Switzerland and at the journalism school of RTL, a private German television station, she has made it to chief political journalist with the daily newspaper, Welt. Back in their youth in North Rhine-Westphalia, the Secretary and she were Catholic. Now, for a long time, they have not been members of any church. Lately they had a much-noticed photo session in an abandoned, previously Protestant church on the island of Sylt where a philosopher, Peter Sloterdijk, must have made some kind of sermon. "Why would two individuals go for a church wedding who have consciously left the church and who have publicly declared that they do not consider themselves as Christians?" Kaessmann, the former chairwoman of the EKD ("Evangelische Kirche in Deutschand" — Protestant Church of Germany) Council asks herself. The Church should not give itself for this.
8.43 pm
I lay down. Am totally exhausted. 
10.59 pm
Awake again. I look at the photograph she sent me via Threema years ago. She wore jeans on it. Sitting she had taken a picture of her left hand which she had lightly placed on the knees and upper legs, her finger nails bright red and her fingers wearing her rings, three on her middle finger — a signal and a familiar sign. Touch me for once. "Faith is a sick child, love is a beast," I read with Dörte Hansen. "Hope cannot be killed. Neither can longing, at least not completely." 
James Hopkins  10 July 2022  
The End of The World
I have been dreaming about this for months. I'm on top of The World, the stars are bright above my head, the Pacific lies dark beneath the ship, and each of the passengers are balanced on the tip of change. The swimming pool on the upper deck glows electric blue in the night, and smells of chlorine and leisure.
Three . . .  Two . . .  One!
From a balcony above, the Hungarian violinist plays "Auld Lang Syne" and a wave of waiters, perfectly timed, washes in with trays of Perrier-Jouët. My phone rings and I exchange kisses with someone, but I can't hear a word they say. The Indians from New Jersey appear in the crowd with The Film Critic close behind them. A woman hands me a flute of champagne. The lights of San Diego sparkle on the shore like an island of precious jewels. The Film Critic gives me a slightly awkward hug. "Happy New Year!" I shout, and three crystal glasses clink against mine. Within an hour I am passed out between the soft cotton sheets in Cabin No. 279. 
The World is the only private residential ship on the planet. A community of Residents who live on board and continuously circle the globe. There are 165 apartments aboard The World and they cost from two to fifteen million dollars each. The destination of the ship is determined by vote, and currently the World is sailing up the coast of Mexico, from Cabo San Lucas to San Diego, before crossing over to the island of Maui. I've been aboard since Cabo, but for the next two weeks I'll be living inside the world's most exclusive jewel.
The Film Critic is an annual favorite of The World, and this year I am his Guest — negligible except for my exquisite blue linen suit and my ingratiating smile. "Yes, I live in Kathmandu. Yes, I am a writer. And yes I've met the Dalai Lama too." The World is not an ordinary place, and aboard there are normally only Residents and Staff. The Film Critic's job is to screen the afternoon movie, to lecture about film and make people laugh. Every day there's a new movie at the top of the bill, free popcorn inside of red & white striped boxes, and red cans of Coke, perfectly-chilled. I'm the first to clap and the last to leave. It's my job to support the show.
But now it's 06:00 Hours on New Year's Day. I awaken slowly from the ocean of champagne to find all the lights still on in the room, and the Film Critic asleep on the top of his bed, still dressed black. I don't remember him coming back last night. I roll over and return to the ocean.
07:00 Hours. I fall back into the ocean, slip in and out of dream, and now my Mother is aboard the ship.
08:00 Hours. I dream that someone sneaking up from behind, then we disappear back into sea. 
At 9:00 Hours I sit up and try the first meditation of the new year. It's a Perrier-Jouet meditation where are my head is wrapped in white linen and outside, the ocean is a blurred silence. Inside, the film critic snores from time to time.
At 11:00 Hours a message from the captain resounds throughout the ship: "Good morning, this is your Captain speaking." The long hallways, the salons, and the library fill with the news: 15 Crew members have tested positive for Covid-19 and another 40 are under observation, but all the Residents are safe. The movie screenings have all been cancelled. Very quickly The World has become an unfamiliar place.
13:00 Hours. I order eggs Benedict, a French croissant, and a turmeric, carrot & ginger smoothie. My lunch appears on a silver tray with a fresh yellow rose, courtesy of In-Residence Dining.
15:00 Hours. The phone rings and the Film Critic is asked to report to the Security Office. He returns, dressed in black, and he tells me the news: All of the Guests aboard The World have been "invited to disembark." Instinctively, I pick up the In-Residence phone and order up a bottle of wine. A 2017 Barbaresco/Barolo blend, a life raft to save us as the world comes to an end. "Hey, don't worry," I say, as I pack my blue linen suit. "It's not your fault. I've been kicked off of way nicer ships than this!" "Come on," I add, "Let's get the hell off this tub!" But my tongue is made of salt. 
It's 4:30pm in San Diego and our bags sound like thunder as they roll down the gangway, landing on asphalt again. Suddenly the world is a disorienting place — unpredictable, strange, bleak. Just two ex-Guests pulling rolling bags past homeless men and the CVS, echoing down a dirty street.  The Film Critic checks us into a three-star hotel — a parting gift from The World. The rooms are adequate and there's a view up Broadway, but the Film Critic has wilted away. "Hey it's never too late for happy hour!" I say, and pull out the final shining bottle of wine. We watch the new Beatles documentary up until the end of Part One, then film critic retreats to his room and I retreat to mine. A few minutes later I'm beneath cotton/poly-blend sheets, while an ungrateful city lumbers off to sleep, with all the TV sets left on. 
Out past the harbor, past Coronado Island and Silver Sand Beach, The World lies anchored just out of reach. The stars are bright above the passengers' heads, the Pacific lies dark beneath the ship, and each of the passengers is immune again from the dangers of the world. And now I'm floating off as well. On my own private ocean that rises and falls and glows with sapphire light. The possibility of the exquisite, the possibility of elegance, aboard a jeweled ship of unimaginable richness heading for Maui in the night.
David Oates  Sunday 11 July 2022
Walking up this toy volcano.
Evergreens on all sides — Douglas fir our local emblem thick and wide, deep green from afar and shady hereunder. This is the native state I have craved all my desert-born life. And now I live here. Crowd me in, big trees. Breathe me.
A narrow road curls up this little mountain, closed to traffic and dotted with walkers and runners. In the nineteen-twenties, Model T's must have motored up here. The slope is just enough to work  the legs, since I'm a slow old walker now. Here comes a runner, she's a smooth glider, great form. I feel an odd joy in someone else's youth. I love to see the young ones running well, neither overstriding nor jolting. "Run inside yourself" my coach used to say, meaning not to push too hard, but to let the run come from where all is in concert, all is well.
Cool morning air coasts gently in from the east as if the big reality-sized volcano over there were sending us a little snow-and-glacier air, sharp and bright. Mt. Hood shining in the sun, its glaciers still holding on. And there are several other volcanic leftovers to be seen from up here — little buttes and cones rising up from suburbs and diverting freeways. Each of them an old story we don't tell.
Now I hear familiar bird calls . . . and I realize that these are the first robins I've heard this year. They've been weirdly absent in my neighborhood, which is perfect robin habitat, grassy and tree-studded. In the back of my mind I know this absence is part of a continental dislocation and die-off. In the wee savanna of my back yard, it reads as an eerie silence.
Do we remember to miss what is gone, or does absence just form a new normal? The unconscious conservatism of just going along with whatever is happening.
At the top I know I've ascended only about 200 meters. It's a green garden up here, wide as a sports field, shady under a mature grove of firs. This mountain is a tiny little magma-burp in the chain of Pacific-ring geology — a cinder cone dormant for a few hundred thousand years now. Enough time to fill in top and grow these well-spaced trees shedding dappled light. The paved road circles unobtrusively, perhaps a kilometer around. If you didn't mind the repetition you could run a 10k race here. Around the edges flickers a loose visitation of easygoing walkers and their dogs and strollers. In the middle, some Frisbees. Some folks sitting with their lunches and tete-a-tetes.
Green garden in an ancient caldera, prosperous and calm as if the world were not fighting greenness with every breath. For now, for today, all is right up here. The truth (and the lie) of nature.
* * *
I dream waking dreams of civility and grace. Who doesn't?
Park benches look out over the city. Suburbs slope down to the big river, then downtown highrises pop up, domineering and proud. And I can just about make out where the author of the Earthsea stories used to live — a little north of downtown, close to the trails of Portland's vast Forest Park. Ursula Le Guin once called herself "the most arboreal of writers." We all laughed but felt the same way. 
But her most famous imagining was inspired by islands — in her "Earthsea" trilogy, a chain of small or medium-sized little nations enisled in just the right way, so that their individuality stayed safe but trade and exchange went on like gangbusters. A formula for civilization, I think. Lots of borrowing.
I try on an Earthsea fantasy. If you suppose a hundred-foot sea level rise, Portland's volcanic cones and buttes would turn into a scattering of islands, facing a tall ridgeline island, formerly those West Hills overtopping downtown. That much water would mean letting such downtowns go. For a few generations the highrises would keep their heads above the rising waters. People would live in their upper floors and remember that there once was a different world. Then, one by one, the big buildings would fall. And people would begin to doubt whether they were really as tall as the legends claimed. Or whether they were built by humans at all.
We will be the object of longing then. They'll think we must have been wise, and therefore noble and kind. And therefore happy.
* * *
I walk on, completing a circuit around the grove. Once again I look down to see Portland suburbs  tilting towards us. I can make out my neighborhood, where I walk every day. I know where the good coffee bars are, and the good taverns. And I know where the street cars used to run, a hundred years ago, right up to the pretty reservoirs on the volcano's lower slopes. We've kept them, at least, perfect shaded lakes with pointed iron fencing and elaborate stonework.
And here comes another waking dream. When I visited the German town of Kassel a few years ago, to attend the art extravaganza of Documenta, I rode a street car right up the side of an urban hill to arrive at a small, forested palace. Something to do with the former lordling, a Margrave or Elector or some such thing. The palace had been made into public space, a museum I guess, served by public transit. And of course I think — why couldn't we build something like that here? We need a few more concert halls. Our town has brilliant musicians, a superb baroque orchestra, chamber music festivals, vocal and contemporary-music ensembles, and of course the big orchestra sawing away. Honestly, music is the other reason to live here. Along with the trees. And the coffee. And the beer.
So I dream a beautiful little concert hall, perched on the side of this hill next to a reflecting oval. Forest all around it. With a streetcar arriving hourly through the housing and the neighborhood shops, up the slope and straight to the doorstep of music.
Such things have happened. I don't know where the money comes from, or the will. But this I know: someone has to dream it first. And then — somehow — get the rest of the city dreaming too.
That's how our reality is made. It must be dreamed first. I don't know if streetcars will make us happier or wiser. But I know music will.
Later, if the waters do rise, the hall could receive gondolas full of concert-goers, gaily Venetian in some strange-new-world way. Maybe we'll be getting around in carven cedar canoes by then, as we did for so long before.
Johanna Hansen  Düsseldorf, Sunday, July 10, 2022
7.30 am
Last night my grandmother embraced me in my sleep before she dissolved into mist. I had to find my way in this world without her. In my dream I opened the door to a room through which a country road led which lost itself in a distant surf sound.
It was my grandmother who inherited to me the longing for the sea. Her mother was from the peninsula of Nordstrand close to Husum, had been married off to the Lower Rhine region far from home and died eleven children later without having seen her home again. The marriage had been arranged by a priest who was looking for wives for single farmers and land owners of the Lower Rhine. My grandmother passed her mother's homesickness on to me. I breathed in the sea air of her stories. I have borrowed everything from it. Every open ending. The vastness. My verses' colors. More than anything else the longing.
10 am
After yesterday's phone conversation with a dealer in gallery pedestals and sculpture tools I have chosen a pedestal. It will be a sea pole of untreated oak. The wood which has been bleached by the sea water has a grayish color same as the angel sculpture: a raw cast of bronze with just one polished gold wing. The other one remains matte and gray like the trunk. A few years ago an art loving couple had entrusted me with the draft of the angel. They wanted to have an angel sculpture as a guardian for the entrance of their house. I was free to proceed as I wished. Without any sketches I formed clay drafts for the sculpture. In the fire several of the models lost their wings because I had not fixed them properly. That was why I gilded the broken edges and the remnants of the wings. I even liked the wing-less angels better than the ones that had survived the fire without harm. I am now having the angel re-cast for myself. Back then the order made me think about the symbols of hope I grew up with. They belonged mainly to the Catholic cosmos. I have long since left them behind. Still over time repeatedly angel-like protective creatures appeared on paper. They seemed to be outside the learned canon of guilt, shame and sin. When I was a child I thought that butterflies were the visible side of the angels.
Childhood summer. On the clothesline in the garden white sheets, in my fantasy they are angels' sleeve protectors. They use them to wish gold from the ceiling frescoes and the embroidered altar cloths in the church which guards me day and night. I have put myself in the fluttering of the angels up to the mouth, huddling in it like in a cocoon of sibilants. It is hot, the hours in which the jumble of sounds leaves its marks get caught in the swing of a rake on a gravel path. The garden: an acoustic keyboard, flattering, abrasive, buzzing, flickering. I swing all the way up to the plum tree, jump out of the swing at the highest point, fly through the air for a few seconds and land in the potato patch. Only in the evening does God come by to look into his kaleidoscope again and throw a few things too many into my lung. In the shade that his view casts on me I duck away.
11 am
A visitor from Munich. Nelia is in Düsseldorf for a seminar and pays me a visit. We sit opposite each other at a long empty table and talk about psychoanalysis and art as different methods of cognition. A year ago we met for the first time. Today is our second encounter. Nelia is as familiar to me as if we had known each other for a long time. She wears a white blouse with long sleeves equipped with pearls as cuff links. In the right sleeve of the blouse the second pearl of the cuff link dangles every time she moves her arm. Maybe Nelia has forgotten to pull the pearl through the second button hole. Maybe the fastener has come off accidentally. I would like to ask Nelia if I am allowed to draw this irregularity. But there is not enough time left until she leaves. Following my own hand while drawing/writing: until now this has been the narrow bar that has carried me.
3 pm
Claudia comes by to discuss the planned documentation. She will make pictures of the manufacturing process of the sculpture and use them to design a book along with photographs of the various drafts, short texts and colored drawings/sketches. Without Claudia's photographer's and graphic designer's view on aesthetic aspects it would not have occurred to me to capture the creation process of the bronze sculpture in words and pictures. Her interest in my work, her curiosity, her way of asking are a blessing to me. We drink tea and eat nut triangles and almond croissants. It is so hot that the chocolate sticks to our fingers.
6 pm
In the course of today it has become clear to me that it is not by coincidence that I am having the angel cast for me right now. The War in Ukraine, the notable effects of the climate crisis, the flow of refugees and the pandemic are increasingly challenging the means of my work. Up to now I had seen them as a counter movement to the impositions of everyday life, natural disasters, theaters of war. Now on many days I am speechless, disillusioned, go through the desertifying landscape with a feeling of powerlessness.
In the unfinished state the sculpture which consists of two parts has one junction point, a golden welded seam, approx. 5cm wide. It runs underneath the costal arch, exactly where there is a fine blue line on my own chest. A result of my shortage of breath of many years.  All of a sudden the decision I have to make is clear. I will not take any colors, sketch books, brushes or pens to the Cité Internationale des Arts in Paris. For my two-months stay there I will pack nothing of what has made myself me for so many years. It is time to once again arrive somewhere and walk around with empty hands.
6.30 pm
Open YouTube. Choose ocean sounds. Close my eyes. Lie on the ground. Listen.
Dorthe (1861–1931)
if i glided over the tidal flat like you with one foot on the salt encrusted mud sled with the other one pushing myself off the ground without getting stranded in the labyrinth of childhood. if you told me. believe me. you just have to practice long enough. if i had not caught a deficiency syndrome or love sickness. tenderly passed on over various generations. i would remember my empty-breathed mouth and the stretched neck of the bird berth. where three whooper swans swung over the dog rose for everybody. if i learned their song by heart. the reed. the dew hour blue. to the lagoon now the seagull flies and dusk falls. at low tide to struck-lahnungshörn. I am walking in the same way through the tide-ways and over the dike. you. directly in front of me. in dandelion bays skimming the milky skin of the sheep cold with your hands. if at rungholt the evening turned gray on shell banks. and we were wind sediments on the waves. sparkling blossom cuffs of gristly fruit trees. they would grow through the gapless future. which at night you would rip up in vain at the spinning wheel. hometown glory. straw to gold. illusory images on the crest of the high tide the full moon would dance. never for god and the world would want to get rid of you once and for all. what would be left for you except for foaming speechlessness. . . .
10 pm
Sunset on the Rhine, dipping the day in pastel tones. Young people dancing tango on the promenade.
The evening has the quality of the light in a Vermeer picture. He was able to stop the world with a pearl earring. Up to here. And from here on.
Bold notes in the poem: from "Meeresstrand. Ans Haff nun fliegt die Möwe und Dämmrung bricht herein" by Theodor Storm and from the song "Hometown Glory" by Adele.
Kathrin Schadt.  Several book publications, translated into several languages.  Publications as a journalist in DIE ZEIT among others.  Host of poetry festivals, including Otro modo de ser.  Founder of the poetry workshop POEDU.  Awards in the fields of literature, film, radio, journalism.  2021 publications: POEDU book (Elif publishing house), Children's book (Bülbül publishing house); she publishes an anthology (Verbrecher publishing house) together with the Fritz-Hüser-Institut, Iuditha Balint, Julia Dathe and Christoph Wenzel.  For her recent novel project she obtained a residency grant of the Franz-Edelmaier-Residenz for Literature and Human Rights 2020/2021. 
Gundega Repše.  Latvian prose writer and art historian from Riga.  She studied art history and theory.  Worked for the Latvian Artists' Association (1985–1992), the literary magazine Liesma, Labrit newspaper and the literary magazine Karogs.  She started publishing prose in 1979, including 10 novels such as Thumbelina (Ikstite, 2000), The Orphanage (Barenu nams, 2008), the trilogy Heavy Metal (Smagais metals, Omnibus edition 2012), Nice People (Jauki laudis, 2014), six short story collections and numerous non-fiction books, biographies, literary diaries.  Conversations with writers and essays. 
Since 2020, David Eisermann has been contributing entries from an autofictional diary to WORTSCHAU, a literary magazine, edited by Johanna Hansen and Wolfgang Allinger.  His texts deal with his former job hosting the morning show on WDR3 arts radio in Germany—presenting a daily mix of classical music and talks about the arts—interspersed with visits by dead loved-ones in broad day-light and a false memory of the night when the Earth stopped turning.  David has been working on "Unheard-of Years," a long-term project involving personal photos and not so false memories of a time when his hometown, Bonn, was the political center of Germany.  More about David Eisermann at www.isbn.de/person/David+Eisermann. 
James C. Hopkins was born in the USA and raised in the Blue Ridge mountains of Virginia.  He earned his college degree in French Language & Literature from Duke University and worked for more than two decades as a Wall Street investment broker before moving to Kathmandu, Nepal to work and study in a Buddhist monastery.  He is the author of 6 books of poetry and his poems have appeared in numerous magazines & journals around the world.  Currently, James lives in Kathmandu where he runs international writing workshops through Himalayan Writers Workshop, and is the director of Quilts for Kids Nepal, a social enterprise that sponsors education for at-risk children and creates jobs for economically-challenged women in Nepal and India. 
David Oates is author of six books of nonfiction.  His memoir The Mountains of Paris: How Awe and Wonder Rewrote My Life won the Eric Hoffer Award and was finalist for the Oregon Book Award.  His essays have appeared in Georgia Review, Creative Nonfiction, Ecotone, and monthly in the online journal 3QuarksDaily.  His poems have recently appeared in Orion, Rattle, and December Magazine.  The Heron Place won the 2015 Poetry Award and publication from Swan Scythe Press (San Francisco).  He lives in Portland, Oregon (USA) and has taught at colleges and universities in the US and France.  His Ph.D. is from Emory University, Atlanta. 
Johanna Hansen.  Poet, Painter, Editor of the literary magazine WORTSCHAU.  Grew up in Kalkar/Lower Rhine.  First teacher and journalist.  Three-year stay in Davos/Switzerland.  Since 1993 numerous exhibitions and participation in exhibitions.  Since 2008 publications, mainly of poetry in combination with own paintings.  In collaboration with musicians and composers, she has created performances, book/CD projects and poetry films.  Poems have been translated into various languages.  Johanna Hansen is online at www.johannahansen.de. 
Dagmar Vossen spent her childhood and youth in Aachen.  She studied English and Spanish at the Institut für Übersetzen und Dolmetschen (Institute for Translating and Interpreting) of the University of Heidelberg.  Since 1991 she has been with a global Insurance Brokers/Risk Consultants firm with a multinational focus.  She has translated the essays of Johanna Hansen, Kathrin Schadt, Gundega Repše and David Eisermann into English.